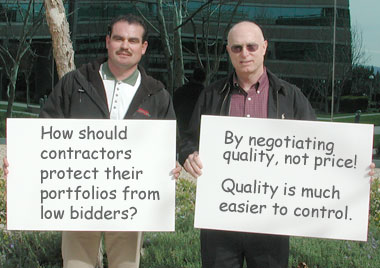 Dave with Miguel, Operations Manager of a succesful landscaping company
There is no such thing as a low bid. Quality drives price, price drives quality.

You define job quality with your client each time you are preparing for a bid (on a hand colored site map prepared for client). Factoring quality into the bid process you will show professionalism at the bid table and set the standard. If the client doesn't have a sufficient budget for the job you can negotiate quality, not price.

With this approach to bidding you will profit on low and high bids and protect your reputation with objective quality reports.